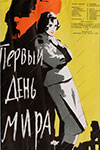 The stills shown in the previous post belong to the soviet film
"Первый день мира"
from 1959. Huge debt of gratitude to the scholars at Slavcin-L, who identified it. In the western world, the film seems to have been released under two titles:
"The Day the War Ended"
and
"The First Day of Peace"
which is the correct translation of the title
.
It was released on the 28th of January, 1961 in New York City, hence, some sites show it as a 1961 film.
You can find all information for the film, including cast and crew, opening dates and stills in the following links: